Episurf Episealer Talus
Individualised Design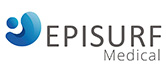 The Episealer Talus is an individualised resurfacing implant intended for use on either the medial or lateral talus. It aims to treat patients suffering from pain and reduced mobility due to focal osteochondral lesions in the talus. The Episealer technology restores the damaged joint surface in order to alleviate pain and quickly enables patients to recover joint mobility.
Episurf's Episealer Talus implant belongs to the group of so-called resurfacing implants. These implants serve to re-create the original surface of your talus bone by replacing the damaged tissue(s) while keeping the rest of the talus intact. What distinguishes the Episealer implants from other, similar devices, is the individualised approach during the production process. Episurf makes sure that your Episealer Talus implant is fully tailored to your lesion, the joint surface curvature and underlying bone conditions.
Features & Benefits
Episurf produces a detailed computerised reconstruction of your talus bone, including damages in the talar bone, which is then presented to the surgeon in an interactive 3D report for review. By combining advanced 3D imaging technology with the latest manufacturing technologies, not only is the implant adapted to your unique injury and anatomy, but also the surgical instruments used.
Episealer Talus can be used on both the medial and lateral side of the talar dome.
The Episealer implant comes with an individualised drill guide, Epiguide, and a set of associated tools needed to ensure the best possible outcome.
Surgeon Finder
If you would like to find your nearest surgeon please provide us with your postcode
Find a

Surgeon
Join our distribution network
Ideal Med are always looking to partner with innovative brands who have a passion for developing and bringing to market next generation solutions for both patients and surgeons. If you believe you have a product that would be of interest to Ideal Med please do get in contact with us.
Read

More