Episurf Episealer Knee
Patient specific knee resurfacing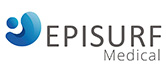 For those with pain as a result of damage to cartilage or bone, a joint replacement may not be necessary. The Episealer Knee from Episurf is a resurfacing implant that is fully tailored to the articular cartilage lesion, the joint surface curvature and underlying bone conditions.
When there is stress or impact on the knee, the cartilage acts as a shock absorber. Although cartilage has no pain fibres, the bone beneath it has a rich supply and therefore any damage to the cartilage and bone unit can cause pain. Once damaged, cartilage has a very limited ability to heal and this self-repairing mechanism decreases further as we age.
Episurf Medical has developed an individualised treatment option that replaces the affected area of the joint surface. The goal of the surgery is to stop or delay the need for a joint replacement surgery and to restore the knee function as well as to significantly reduce pain.
Features & Benefits
The individualised design of the Episealer implants and surgical instruments are based on MR imaging. By data processing, a virtual 3D model of the damaged femoral knee joint is recreated and the lesion is defined and displayed. Subsequently, the Episealer and instruments are designed to remove the damaged tissue as well as to restore the area with a perfectly fitting implant. By combining advanced 3D imaging technology with the latest manufacturing technologies, not only each implant is adapted to the patient's unique injury and anatomy, but also the surgical instruments used.
Episealer implants can provide a solution to patients with a pre-arthritic disease state, i.e. focal cartilage lesions.
Surgeon Finder
If you would like to find your nearest surgeon please provide us with your postcode
Find a

Surgeon
Join our distribution network
Ideal Med are always looking to partner with innovative brands who have a passion for developing and bringing to market next generation solutions for both patients and surgeons. If you believe you have a product that would be of interest to Ideal Med please do get in contact with us.
Read

More