NuVasive Precice OPTY-LINE
Accurate correction and predictable healing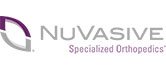 The PRECICE OPTY-LINE is intended for open wedge proximal tibial osteotomies aiming for a much more accurate result than traditional methods with predictable healing.
The PRECICE OPTY-LINE System is composed of an implantable titanium intramedullary nail, locking screws, reusable instruments, and a hand-held External Remote Controller (ERC). The ERC is used daily after implantation to non-invasively lengthen or shorten the implant to a prescribed length.
Features and Benefits
For younger, more active patients with varus malalignment and uni-compartmental osteoarthritis, the externally adjustable PRECICE OPTY-LINE Intramedullary (IM) Nail is an ideal solution for joint preservation
Accurate Correction – OPTY-LINE provides you with the ability to deliver precise correction
Predictable Healing – Distraction osteogenesis allows the body to regenerate bone across the osteotomy gap, without the need for bone grafting
State-of-the-Art Technology:
The key to the NuVasive® platform technology is the magnetic interaction between the PRECICE® intramedullary (IM) nail and remote control. The proprietary technology includes a complex internal gear system remotely activated and controlled by permanent magnets. This advancement in limb lengthening, and deformity correction allows for a precision-controlled distraction phase with the ability to non-invasively customize treatment.
External Remote Controller (ERC)
The ERC is a portable, hand held unit that precisely lengthens or shortens the IM nail through the touch of a button. The ERC is fully customizable to each patient based on their distraction needs. The ERC is designed to be used in a clinic setting or the comfort of the patient's home.
Surgeon Finder
If you would like to find your nearest surgeon please provide us with your postcode
Find a

Surgeon
Join our distribution network
Ideal Med are always looking to partner with innovative brands who have a passion for developing and bringing to market next generation solutions for both patients and surgeons. If you believe you have a product that would be of interest to Ideal Med please do get in contact with us.
Read

More